Steel Drums
New
12" Double Tenors !
Yes, they are finally ready to go. A lot of time and effort went into these small wonders.
Range: A4 - D5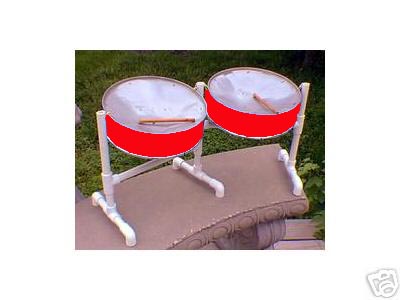 Comes complete with free stand and mallets.
TOTAL PRICE .........$159.00

-------->CLICK HERE FOR A SAMPLE SOUND<----------
THIS IS WHAT JUST ONE OF OUR SATISFIED CUSTOMERS HAD TO SAY!
Dear Greg:

I just received my order of the double tenors. My son loves them! I'm really
impressed with the workmanship and tonal quality. Overall, these are a great
bargain. There is a company called "*********" that sells a single 12" pan
for over $100.00 and is of less quality than your product. I'm referring
everyone to you who sees these drums and may want a set of pans for their
kids. Great work, Greg. Good luck & thanks. You are a true craftsman.

-Kevin Crites
Los Angeles, CA

These look like the 12" single pan with the exception there are two!
With all the notes!
In the same pattern as the larger "Silver Stars" Double Tenors
For ordering instructions, please E-Mail us!
Return to home page Steel of the Night