Steel Drum Cases
IMPACT HC09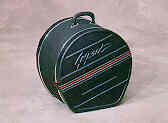 For leads, double tenors and double seconds. Lined with 1/2" of
foam. Recommended for gigging and occasional
shipping.
$175.00 each (2 needed for double set)
---
IMPACT HC14
Hard Case for Guitar Pans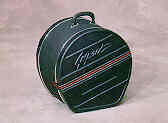 $190.00 each (2 needed for double set)
Prices do not include shipping charges.
---
IMPACT SC09
SOFT CASE

Also available upon request "soft cases". These soft cases are made from a durable, water resistant, form lined Cordura with a half inch of protective foam.
$105.00 each (for lead, tenors & seconds)
---
IMPACT SC14
SOFT CASE

Same as above expect for Guitar Pans w/14" shirt.
$135.00 each
---
IMPACT SC28
SOFT CASE

For Cellos and Tenor Basses with a 28" skirt.
$165.00 Each

HARD CASE AVAILABLE FOR CELLOS AND BASSES EMAIL
OR CALL FOR PRICING
---